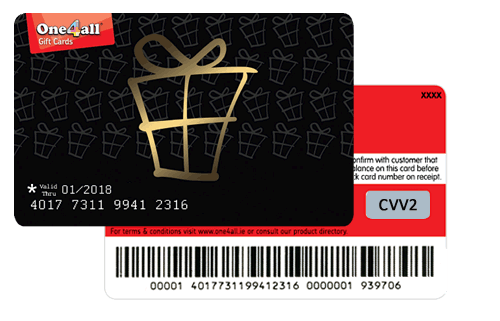 Check our list of online retailers to make sure the retailer accepts One4all Gift Cards online. Please make sure that the total cost of your basket is equal to or lower than the value of the One4all, as most online stores will not accept multiple payment methods.
In payment options at the checkout, select 'Visa' or 'Visa Debit Card'.
Use the Valid Thru date on the front of the card in the Expiry Date box.
Find the CVV2 number behind the silver panel on the back of the card.
Use your own name and address for Billing Details.

Complete checkout.
Remember, use your One4all Gift Card as a prepaid Visa Debit Card. Do not choose 'Gift Voucher' or 'Gift Card' at checkout. Also please keep your One4all Gift Card in case of returns or refunds. For further assistance, please email custserv@one4allgiftcard.co.uk.
Is there a limit when spending my One4all Gift Card online?
How do I spend my One4all Gift Card online?
How do I spend my One4all Gift Card online?
Which online retailers accept One4all Gift Cards?
What name & address do I use when asked online?
At checkout there is an option for Gift Card/Gift Voucher, should I use this?
What happens if I need to return an item/s I bought with my One4all Gift Card online?